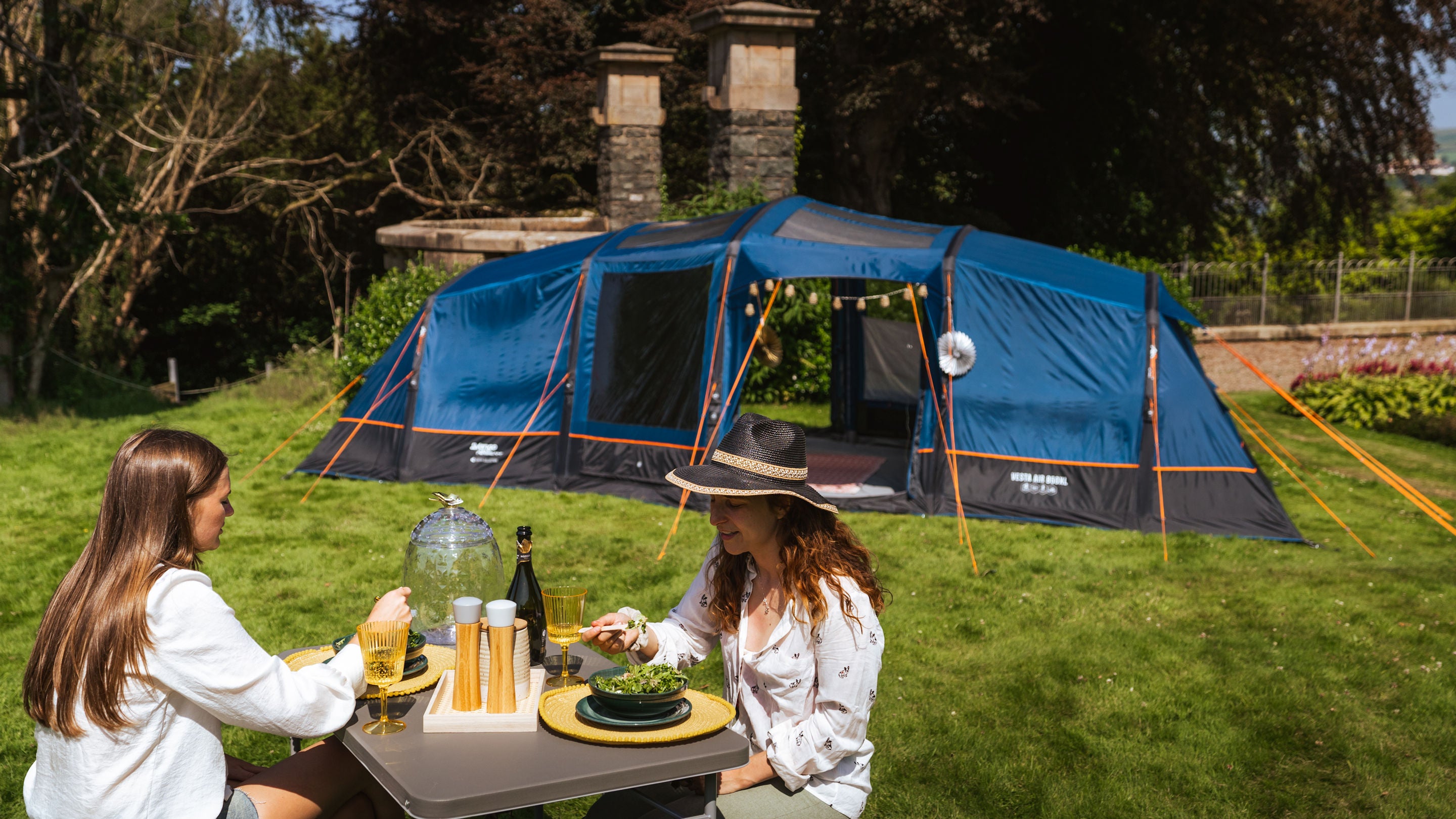 TYPES OF TENTS
Choosing a tent can be a challenging decision due to the multitude of options available.
First and foremost, you must determine the appropriate tent category for your camping expedition. It would be impractical to carry a bulky, Airbeam tent if you're going backpacking. Therefore, ensure that you choose a tent that aligns with your specific requirements.
Here is a list of various tent genres and their suitability for different camping scenarios.
Adventure / Festival Tents
Adventure tents, also known as festival-style tents, are compact and designed to accommodate a maximum of four people.
These tents have a smaller size when packed and are lightweight, making them ideal for weekend campers seeking a simple yet dependable tent for occasional getaways in favourable camping conditions.
Typically, they consist of a sleeping area and a small additional porch or living space.
Advantages:
Compact when packed away.
Lightweight and easy to carry.
Well-suited for touring and festivals.
Quick and easy to set up.
Disadvantages:
Limited living space.
Insufficient standing height.
Shop Adventure / Festival Tents
Weekend Tents
Weekend tents have gained popularity due to the emergence of inflatable tents, making weekend getaways more accessible than ever before! These tents are perfect for both short trips and touring adventures. Typically, weekend tents are of medium size, offering enough room to stand and store your belongings. They also come with a compact pack size, making them convenient for car tours across Europe or the UK. Festival-goers have started opting for weekend tents as well, seeking additional space, comfort, and durability that can withstand multiple festivals.
Advantages:
Easy to set up and pack away.
Smaller pack size, perfect for car camping.
Inflatable design for quicker and easier setup.
Ideal for touring, festivals, and car camping.
Provide standing height, sewn-in groundsheets, and enhanced comfort.
Great for couples.
Disadvantages:
Not as spacious as family tents, lacking dedicated living areas.
Slightly heavier compared to adventure tents, which may be a consideration for festival camping.
Shop Weekend Tents
Air Tents
In 2010, an exciting innovation shook up the camping world - Air tents, also known as inflatable tents! Leading the charge was Vango AirBeam with their AirBeam technology, set the bar high for other brands to follow suit with a variety of air tent models tailored to meet the diverse needs of campers. Since then, these tents have undergone significant advancements, offering enhanced strength, rigidity, and impressive PSI levels, rivaling even the traditional steel-poled counterparts. With their sturdy air beams, you can confidently bid farewell to the worry of snapped tent poles during windy days.
One of the most appealing aspects of Air tents is their remarkable ease of setup. Compared to the time-consuming process of pitching traditional pole tents, Air tents can be ready for use within a matter of minutes. This convenience has made them a firm favorite, especially among families who can now set up their spacious tents in a flash, saving valuable time that can be better spent enjoying the great outdoors.
Advantages of Air Tents:
Swift and Effortless Pitching
Unmatched Strength and Durability
Perfect for Multi-Stop Holidays
Versatility in Material
Reliability
Disadvantages:
Weight
Managing Condensation
Pack Size Awareness
Shop Air Tents
Family Tents
Families, just like tents, come in all shapes and sizes! When it comes to family tents, there's an incredible variety to suit your needs, whether you're a group of 3 or a gang of 10. Today's family tents are designed with practical tunnel-shaped layouts and an ingenious three-zone design, making the most of your living space. Imagine having a front porch area for all your gear and cooking needs, a cozy living space to relax and stay dry, and a fully enclosed sleeping compartment for utmost comfort.
Family tents generally have generous standing height, allowing you to move freely without bending down. No more cramped camping! Instead, you'll enjoy a high-quality camping experience with plenty of room for the whole family to unwind.
As staycations become more popular, family tent sales are soaring, allowing everyone to embrace the beauty of the British summertime and countryside. Modern family camping has evolved with technology, bringing a touch of glamping luxury to the great outdoors.
Advantages of Family Tents:
Spacious Living Area
Versatile Sizes
Extra Comfort
Swift Setup
Budget-Friendly: Opting for a family camping holiday can be a more cost-effective choice compared to traveling abroad.
Disadvantages:
Considerable Size and Weight: Larger family tents may require more storage space and be slightly heavier to carry.
Drying Challenge: After wet weather, it can take more effort to dry out a larger tent compared to smaller ones.
Weekend Planning: While spacious and delightful, larger tents may require a bit more planning for spontaneous weekend trips.
Shop Family Tents
Tipi Tents
The world of camping has witnessed a significant rise in glamping experiences, and the Bell / Tipi style of tent has played a pivotal role in accommodating this trend. These tents, made from comfortable and flexible cotton fabrics, have become a top choice for those seeking added luxury and versatility. With their easy pitching design and exceptional features, Tipis offer an all-season camping solution. Tipis with cotton fabric keeps them cooler during the summer and cosier in the winter, making them a perfect choice for year-round adventures. Many Tipi tents now even come with stove ports, allowing you to add a woodfire stove for that extra warmth and comfort during colder months.
Advantages of Tipi Tents:
Ideal for Early/Late Season Camping: With cotton fabric providing excellent insulation, Tipis are perfect for camping in spring and fall.
Stove Ports for Added Warmth: The inclusion of stove ports allows you to use woodburners during chilly winter months, ensuring a snug and inviting ambiance.
Glamping at Its Best: Tipi camping takes your outdoor adventure to the next level, offering a luxurious glamping experience.
Effortless Pitching: Setting up a Tipi is a breeze, saving you time and effort for more enjoyable camping moments.
Disadvantages:
Middle Pole Inconvenience: Some Tipi tents feature a middle pole, which may pose a slight inconvenience in the interior layout.
Weight Consideration: Due to the cotton design, Tipi tents can be slightly heavier compared to other materials.
Longer Drying Time: After rainy days, cotton tents may take a bit longer to dry out completely.
Limited Living Space and Height: While cozy and charming, Tipi tents may not offer as much living space and headroom as other tent types.